Professional. Affordable.
Pressure Washing Worthington OH
Top-Rated Pressure Cleaning in Worthington
All-Around LLC is Worthington's first go-to for professional pressure washing services. We have a broad range of washing services that cover cleaning outdoor areas, including patios, driveways, sidewalks, furniture, roofs, and more.
Pressure washing and cleaning can be a dirty, icky job for you to do by yourself. It is precisely the kind of job you'd rather pay someone else to do. But who? Firms are either unreasonably expensive or make work seem like an impossible undertaking.  
Instead, let All-Around Washing LLC do it for you. We provide professional exterior cleaning services at your convenience. These services range from deep washing to lightly touching up. Our exterior house cleaning, patio cleaning, sidewalk cleaning, roof cleaning, and vinyl siding cleaning services are available to residential and commercial clients in Worthington, Ohio, and beyond.
Searching for Worthington Pressure Washing Near Me?
As a homeowner or property manager, your house plays a significant role in establishing appeal for you and your neighbors. You want to ensure your property looks its best when you have guests over. But washing the home's exterior doesn't have to be complicated or time-consuming, especially with pressure washing by All-Around Washing LLC.
Simply put, pressure washing is the most effective way to clean the outside of your house. Efficiency in cleaning is essential because your time is valuable.  Hence, by hiring All-Around Washing LLC to pressure wash your house and furniture, you can avoid having to deal with combining cleaning agents, using ladders, and scrubbing tenaciously at tough stains.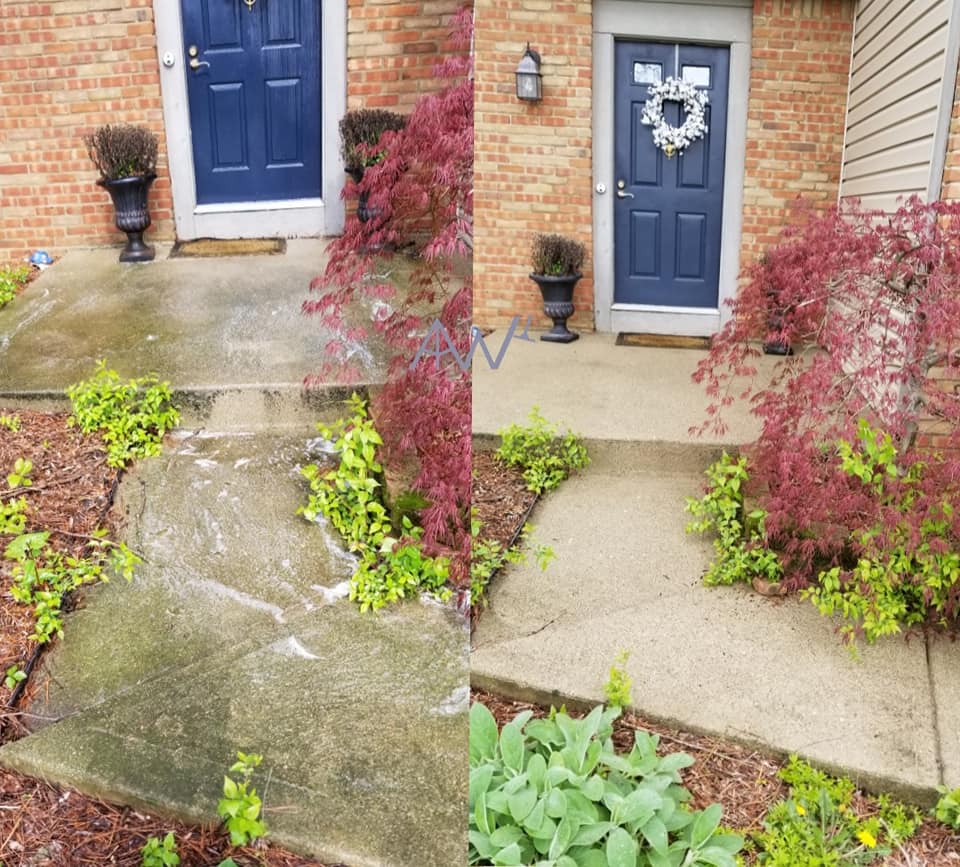 Expert Pressure Washing Service Worthington OH Residents Trust
Our technicians will visit your home in Worthington and quickly get rid of dirt and grime, ensuring that you'll soon be enjoying a fresh home and summer weather in comfort. We're very friendly and easygoing and pride ourselves on superb customer service. Don't hesitate to contact us for more information about our services in Worthington, Ohio, and its environs.
Furthermore, we care about our customers and clean their houses with our workforce and one-of-a-kind pressure washing technology. Your house will be clean from top to bottom when we finish the job. In addition, all of our work is 100% guaranteed, and you will be happy with the results.
We strive to offer you the highest quality service at the lowest possible price. All you need to do is contact us so we can discuss the process of exterior house cleaning and pressure washing, provide you with a quote, and set up an appointment that is convenient for you.
Call Today for Pressure Washing in Worthington, OH!
Worthington is a small and easy-to-settle area in Ohio. It is located in Franklin County and has a small population of 14,000. The Scioto Company, led by James Kilbourne, founded the city in 1803 and gave it the honorary name of Thomas Worthington. Residents of Worthington enjoy a sparse suburban feel, and most people own their family homes. Numerous bars, eateries, coffee shops, and parks in Worthington give homely and enjoyable scenery for tourists and residents alike.
Call on All-Around Washing LLC for cleaning services you can count on in Worthington, Ohio. Our affordable services care for gutters, downspouts, siding, windows, and patio furniture. Whether you need to get the house ready for a big event or simply want to protect your investment, call on us for special discounts with our two-service offers. We cannot wait to hear from you!