Professional. Affordable.
Pressure Washing Columbus, OH
Top-Rated Pressure Cleaning in Columbus OH
Let's tell you a secret: Some stains are intent on frustrating you. Try as hard as possible; they will constantly prove difficult to remove. If this is your situation, then it's time you tried
pressure washing
in Columbus, OH.
However, finding a credible pressure-washing company in a big city like

Columbus

is tricky. But with All-Around Washing LLC, credibility has never been more certain.
We're a veteran-owned exterior cleaning company with over 4 years of experience. We all know that experience doesn't always imply efficiency, a fact homeowners are becoming increasingly aware of. We take pride in our rigorous training and unmatched zeal to deliver.  
Employing us will be one of the best decisions you've ever made for your home. 
Our pressure washing service in Columbus, OH can remove all stains regardless of how long they've stubbornly remained. 
Searching for Columbus Pressure Washing Near Me?
We don't exclusively offer residential pressure washing in Columbus, OH. Surely, commercial buildings also need to be as clean as a whistle, right? Thus, commercial pressure washing is also part of our package. In either residential or commercial, we take adequate care to measure up to all your expectations.
Our pressure washing service in Columbus, OH utilizes proper techniques. Essentially, the force generated by the pressure washer makes for fast and effective cleaning. Dirt like that built up on your driveway can't withstand such force. 
There's more to it than simply targeting the pressure washer hose on a surface. In our experience, sloppy pressure washing does more harm than good. And if you are searching for Columbus pressure washing near me, it's best to choose someone with expertise.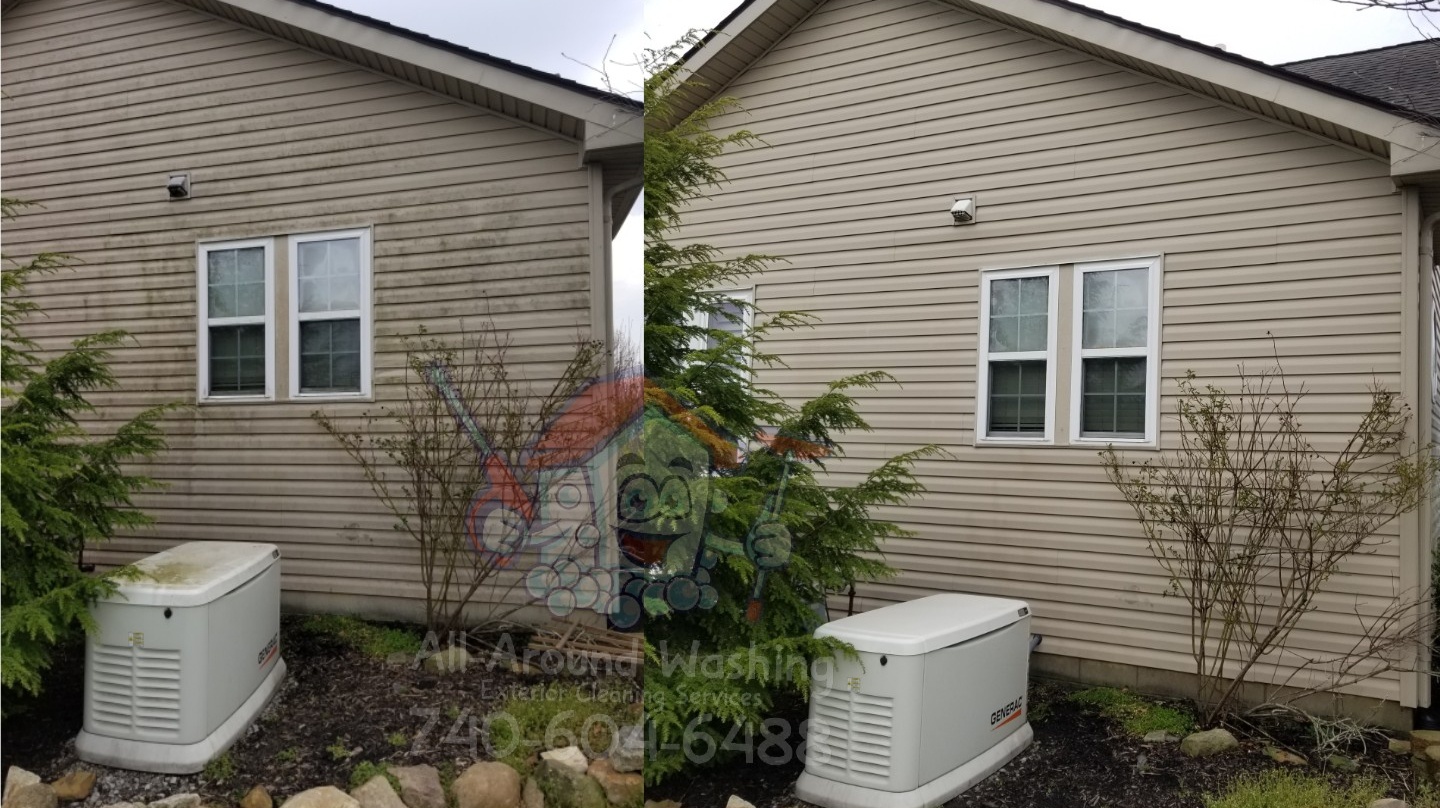 Expert Pressure Washing Service Columbus OH Residents Trust
This makes pressure washing ideal for your driveway. On the contrary, this said force is also the reason for the cons of pressure washing.  
Before you hire, you must consider outfits well adept at all the merits and demerits. We provide unparalleled pressure cleaning that

Columbus, OH

residents know and trust. Ask around; your neighbor might already be All-Around Washing LLC's customer.
Moving on, you may be wondering how the pros and cons of pressure washing are tied to the same thing; the force of the pressure washer. We've encountered homeowners who are constantly taken aback by its force. As such, the DIY route in pressure washing is much more conflicted.  Moreover,
the same force that sends stubborn grime to thy kingdom come can also ruin
certain surfaces. Also, paint on the surface can be washed off in the process.
Pressure washing can as well kick-start the flaking process. This
makes your building appear unsightly. 
 Call Today for Pressure Washing in Columbus, OH!
Further, it's possible that the pressure can be too high or too low. If it's the former, surfaces like roof shingles or loose vinyl sidings can fall off; or get damaged/displaced.  
On the other hand, all "too low" pressure does is make everywhere wet without getting the job done. You see, the key to pressure cleaning is finding a balance. Of all the companies that offer pressure cleaning in Columbus, OH, we are the best choice.
Being the capital of Ohio,
Columbus
is positioned to be an incredible city to live in. This midwest hub grants residents affordable luxury. Notably, it's named after— no cookies for guessing correctly— Christopher Columbus. Yes, the famous Italian explorer. 
Overall, pressure washing can make your home spick and span. Whether the dirt is on your driveway, patio, roof, siding, or walls.  
Nonetheless, the expertise of the person in charge determines how effective the process will be. 
If you are searching for a premier Columbus pressure washing near me, 
 Contact us today
!
8