Professional. Affordable.
Top-Quality House Washing in Dublin
Like many things in life, cleaning the exterior of your home is one of those things you might dread doing. What may seem like a giant task doesn't have to be your burden to carry. With professional house washing services, you can avoid the hassle and get a proper cleaning for the exterior of your home. It's essential to clean your home's exterior regularly. It can prevent mold and allergens from building up and impacting your family's health. In the long run, taking care of your house washing needs can save you a lot of time, money, and headache.
Searching for Dublin House Washing Near Me?
If you're searching for house washing in Dublin, OH, Dublin house washing near me, or exterior house cleaning in Dublin, OH, contact our team of qualified professionals at All-Around Washing, LLC. Our team performs various techniques to carefully sanitize your home, including house soft washing and vinyl siding cleaning. These processes are gentle yet effective methods of cleaning your house's exterior. As a leading house washing company, we understand how vital a clean surface is to maintain your home's value and structure. We bring over eight years of expertise in cleaning the most challenging areas to bring you the quality you deserve in a house wash. On top of that, we only use the highest quality materials and ingredients when house washing.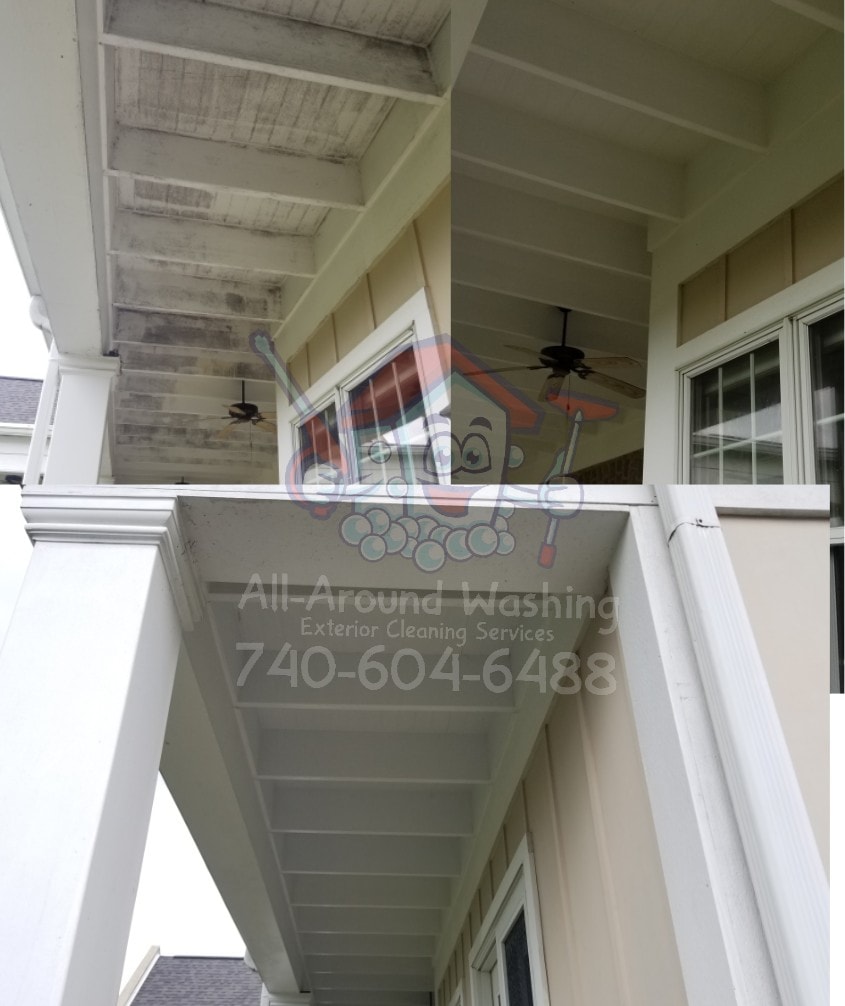 Expert Exterior House Cleaning Dublin OH Residents Trust
We want to help end your search for Dublin house washing near me. We're proud of our previous work with satisfied clients. With every new contract, we take your happiness with the project as the ultimate metric of our success. If you aren't familiar with house washing or know where to even begin, our team of trusted professionals will help you navigate the house cleaning process and answer any questions you may have. Our goal is to go beyond providing an excellent cleaning service and building a long-term relationship as your trusted house-washing advisor. We'll listen to your particular needs and advise you on how to maintain your home's exterior for years to come. No house-washing project is too large for our mighty team to handle, so get in touch with us and tell us more about your house-washing needs.
Dublin, Ohio features over a thousand acres of parks and more than 70 miles of beautiful bike trails for all to enjoy. The city has plenty of sculptures and art in its parks to create a visual spark and attract more visitors. Beyond its warm aesthetic, many companies in the financial services, medical, and technology sectors are headquartered in Dublin, Ohio. This balance of commerce and laidback outdoor fun is ideal for families to live in and visit.
Call Today for House Washing in Dublin, OH!
Dublin residents in need of house washing services or exterior house washing near me, reach out to our team of professionals at All-Around Washing, LLC. We're confident our expertise and background in house washing will make you happy with your clean, protected home. Let us do the heavy lifting so you can relax and not worry about managing a house wash. We look forward to providing you with our exterior house cleaning Dublin OH or house washing Dublin OH services!