Professional. Affordable.
Top-Quality House Washing in London
Cleaning the inside of your home is a chore, but cleaning the outside is a whole adventure. Let's face it: the way your house looks from the outside is a significant factor in maintaining your property value and keeping a nice place to come home to. But beyond that, whatever is growing on your house's exterior can move into the home. Exterior house washing removes debris that results from the different weather conditions that can dirty the exterior of your home. House washing prevents the spread of mildew and algae that can build up to be a health hazard for you and your family.
Searching for London House Washing Near Me?
If you're looking for assistance with exterior house cleaning in London OH, or house washing services, reach out to our skilled team of house cleaning experts at All-Around Washing, LLC. We use high-quality materials to clean the exterior of your home without damaging it. Our vinyl siding cleaning service uses gentle products to care for your housing structure. As the vinyl material, some areas of your home are more delicate than others and require specialized techniques to properly clean. One of the methods we use to clean your home gently is house soft washing. This process uses a lower-pressure pump to clean your home safely. Many house-washing companies use harsh or outdated techniques that can damage the exterior of your home. These careless house-washing jobs can leave you with little results and more headaches. We understand how important your home's exterior is, so we treat it with the utmost care and the finest cleaning agents in both our pressure washing and soft cleaning services. Our vinyl siding cleaning uses gentle products to care for your housing structure.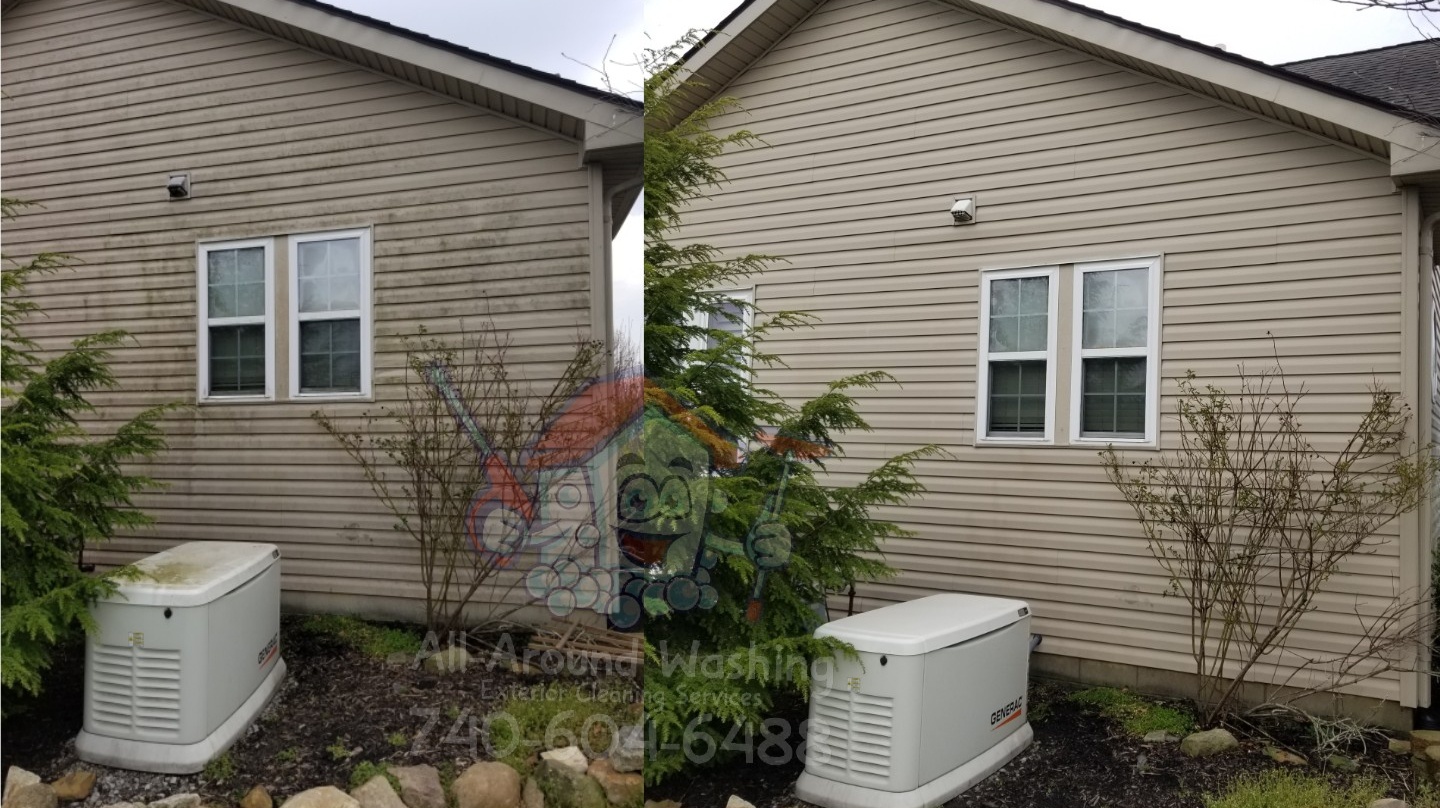 Expert Exterior House Cleaning London OH Residents Trust
Our skilled team cleans your exterior for a refreshed aesthetic and enhanced durability. As a leading house washing company in the London area, we've experienced projects of all types, so we know exactly what we're doing when it comes to cleaning your home. We also know that not every house is built the same, so we customize our offering to deliver tailored results for you and your home. Your success is our success, and we're proud of our long history of clients satisfied with our house-washing services.
The close-knit community of London, Ohio gives the city its welcoming charm. With plenty of parks and outdoor facilities, the London community can enjoy a wide range of activities with their families. The climate sits at a perfect in-between of neither hot nor cold. Residents can relish the hot summer months and the snow in the winter. London is situated remotely enough to be quiet but is also close to the more prominent city of Columbus, OH.
Call Today for House Washing in London, OH!
If you live in London or a surrounding area and are searching for house washing in London, OH, London house washing near me, exterior house washing near me, reach out to our team of professionals at All-Around Washing, LLC. With trusted experience in pressure washing, we're confident you'll be happy with your revitalized exterior. We look forward to giving your home the best clean it's ever gotten!
We also offer professional roof cleaning, pressure washing, and more!