Professional. Affordable.
Top-Quality House Washing in Powell
You keep the inside of your home spick and span for entertaining guests, so why not keep the exterior looking fresh? Exterior house washing is a powerful tool for making your home shine and increasing its value. More importantly, an excellent exterior house wash can fight off dirt and mildew that grows on the side of your home. Investing in routine house washing pays off in the long run and protects your family from toxic material. Taking care of your house's exterior can pay itself in the long run.
Searching for Powell House Washing Near Me?
If you're looking for help with exterior house cleaning in Powell, OH, or exterior house washing near me, reach out to our skilled team of house cleaning experts at All-Around Washing, LLC. Many house washing services don't have the expertise to provide comprehensive cleaning for your home. This lack of results can leave you with more costs and headaches for your home cleaning needs. Our team of licensed professionals has over 4 years of experience dealing with the most challenging house-washing projects. No ask is too big or complicated for us; we're sure we can successfully tackle any size home or level of dirt. Ultimately, your success is ours. Our team won't stop until you get the results you need to feel good about your home's hygiene.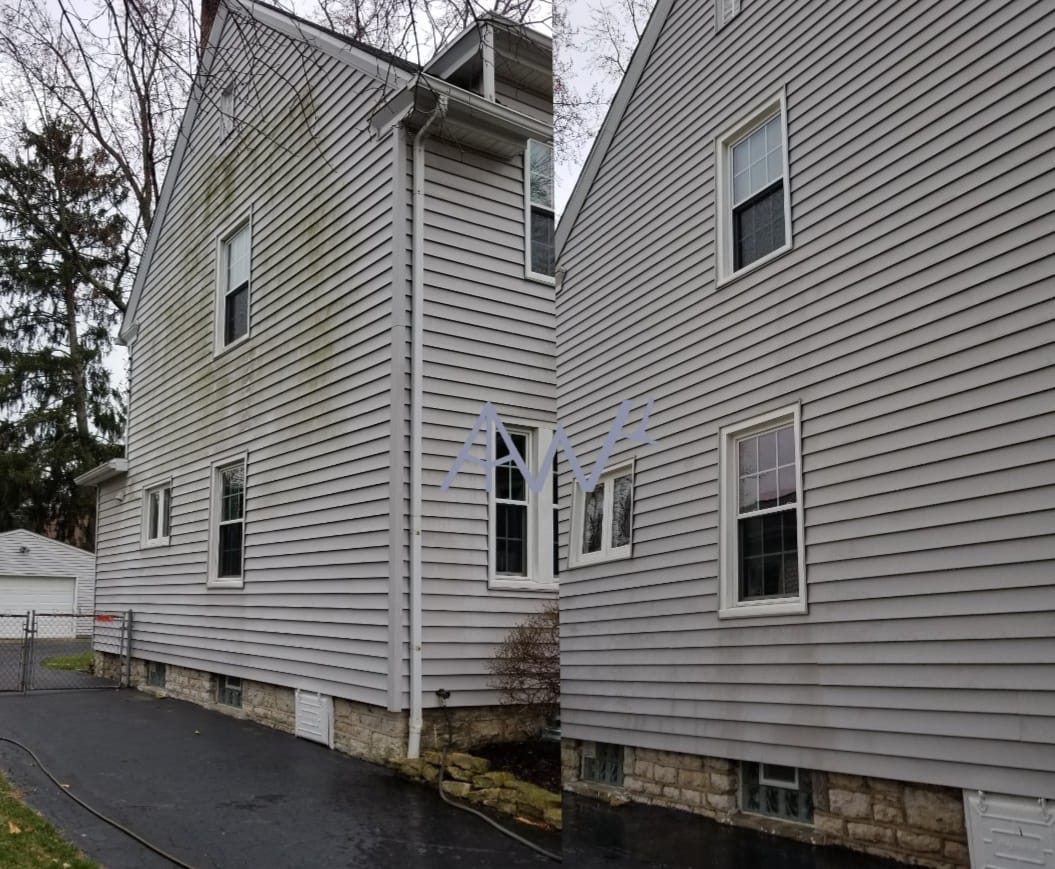 Expert Exterior House Cleaning Powell OH Residents Trust
We want to help end your Powell house washing near me search. As a leading house washing company in the Powell area, we take the utmost care in washing your home clean. Our vinyl siding cleaning service uses soft materials on your exterior to avoid damaging or scraping paint. We use various house soft washing techniques to properly take care of your home's exterior by using lower water pressure. Our high-quality materials and advanced expertise swap harsh house washing methods for thoughtful care. Our background allows us to understand how valuable your house exterior is and how any damage can be a significant headache. That's why we bring you expert service that will leave your house intact while giving it a refreshing lift.
A suburb of Columbus, Powell is home to over 12,000 people, making it a relatively small, tight-knit community. The vibrant Ohio city has plenty of history and cultural attractions, including the Wexner Center for the Arts, Nash House Museum, and Santa Maria. Together with these dynamic exhibitions, Powell is home to plenty of parks and open spaces like the Inniswood Metro Gardens and Prairie Oaks Metro Park. With a combination of diverse entertainment and a laidback atmosphere, Powell is an ideal town to raise a family and visit on vacation.
Call Today for House Washing in Powell, OH!
If you live in Powell or a surrounding area and are searching for Powell house washing near me, house washing Powell OH, contact our skilled team at All-Around Washing, LLC to help with your exterior cleaning needs. With years of house-washing results, we're confident you'll be happy with your revitalized exterior. Give your home's exterior the same amount of attention as your interior to boost your home's health and longevity. We look forward to revitalizing your home with a powerful yet gentle cleaning to keep it in its best shape.
We also offer professional roof cleaning, pressure washing, and more!