Professional. Affordable.
House Washing Upper Arlington OH
Top-Quality House Washing in Upper Arlington
Your home deserves to shine and live long without constant repairs. Much like our skin, our home's exterior is a barrier against external pollutants and organic matter. Mildew, mold, and algae naturally grow on many Ohio homes, which can impact your home's longevity. This organic material can enter your home and potentially be toxic to you and your family. That's why it's crucial to get ahead of it with effective house washing. Cleaning the exterior of your home will not only wash away dirt and debris but also leave your house looking fresh. In addition, cleaning your home pays off in the long run as you avoid ongoing repairs from mold damage.
Searching for Upper Arlington House Washing Near Me?
If you're looking for assistance with house washing in Upper Arlington, OH, or vinyl siding cleaning, reach out to our skilled team of house cleaning experts at All-Around Washing, LLC. Our house washing services tackle all areas of your home's exterior. We use a combination of high-quality house washing cleaners and gentle techniques to ensure we remove every last inch of dirt and keep your home's structure safe. Our house soft washing services use a lower pressure pump and mix of effective chemicals to wash your home gently. We never compromise your home's health and stability for a clean wash. We know how important it is to maintain your home's structure. That's why we bring the utmost care in handling your house washing project, so you don't have to experience careless mistakes that can damage your home.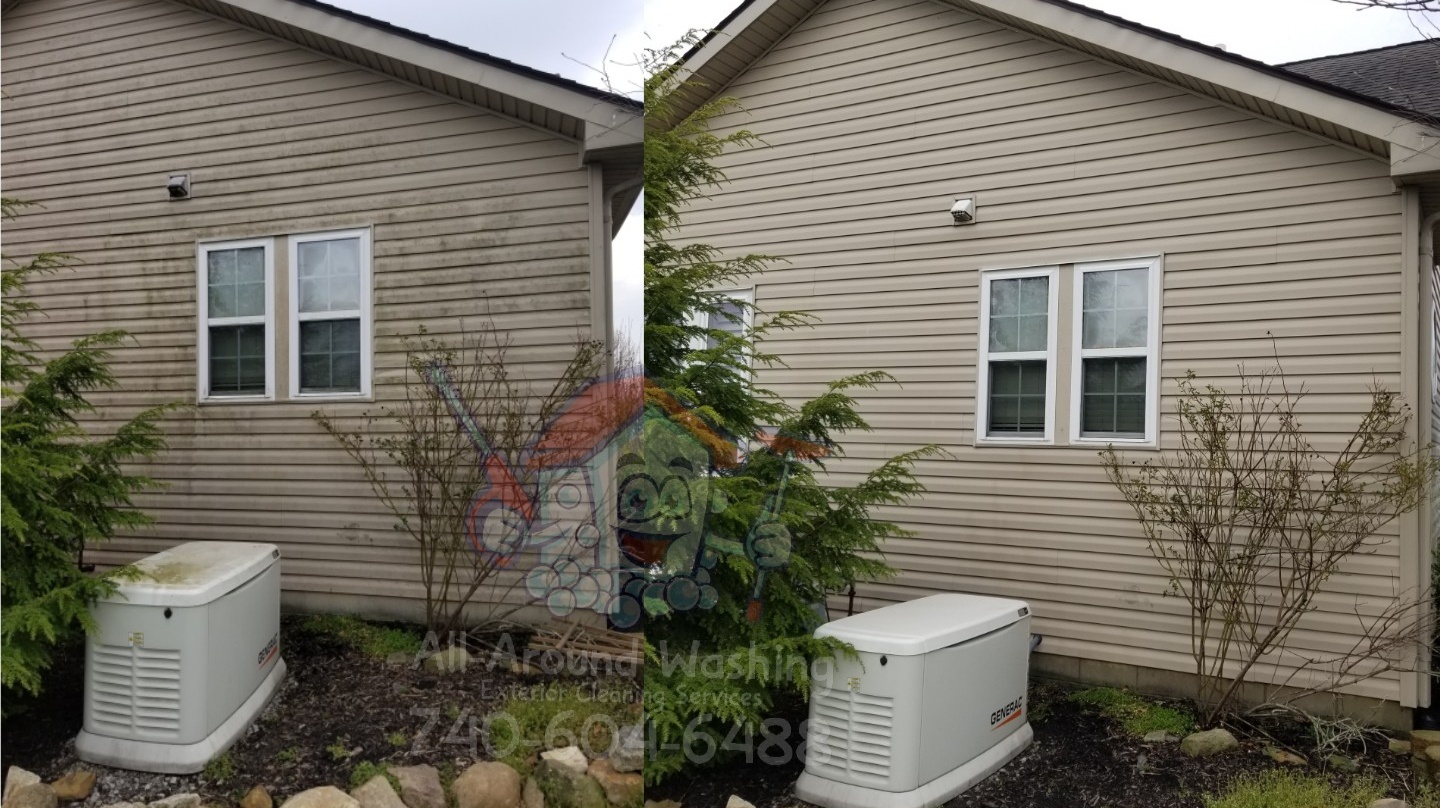 Expert Exterior House Cleaning Upper Arlington OH Residents Trust
With over eight years of house washing experience, our team takes pride in always putting the customer first. Your satisfaction and happiness are our top priority, and we take that commitment seriously. When you contact us, we'll start by scheduling a consultation and giving you a free estimate. As a leading house washing company, transparency and communication are central to how we operate. We understand how much of a headache house washing can be. That's why we strive to provide you with the best experience with guidance at every step of the way, so you don't have to worry about the details of your house wash.
Upper Arlington is known for its eclectic entertainment. The Ohio city is consistent in providing residents with engaging and dynamic events. Between Fourth of July celebrations, Easter egg hunts, and evening dance parties, the Upper Arlington community knows how to come together and have fun. The city also offers recreational spaces like fitness trails, playgrounds, and picnic areas. With a bustling community, plenty of fun activities, and beautiful outdoor parks, Upper Arlington is an ideal place to live and visit with your family.
Call Today for House Washing in Upper Arlington, OH!
If you live in Upper Arlington or a nearby region and are searching for exterior house cleaning in Upper Arlington OH, exterior house washing near me, or Upper Arlington house washing near me, reach out to our team at All-Around Washing, LLC. We're confident our combination of years of experience and advanced methods will make a big splash on your home. We're excited to give your home a refreshing clean that will last for years to come.
We also offer professional roof cleaning, pressure washing, and more!