Professional. Affordable.
Roof Cleaning Upper Arlington OH
Five-Star Rated Roof Washing in Upper Arlington
If you haven't climbed up on your roof to check out its condition in years, it's probably time to do it soon. Not only does roof cleaning bring aesthetic benefits to spruce up your home, but it also keeps your home healthy in the long run. Mold and mildew can grow on your roof if left unkempt. Beyond displaying a significant eyesore, this organic matter spells bad news for your roof and home. Algae and mildew growth can damage and discolor your roof over time. More importantly, it can also be toxic to you and your family. Luckily, you don't have to clean your roof alone. A good roof wash can better prepare your home for damage from mother nature.
Searching for Upper Arlington Roof Cleaners Near Me?
If you're looking for roof cleaning in Upper Arlington, OH, or Upper Arlington roof cleaners near me, you've come to the right place. At All-Around Washing LLC, we always put our customers first to make their roof cleaning a success. Our roof cleaning services include roof moss removal and shingle cleaning. We know how delicate some roofing materials can be, so we bring advanced, gentle cleaning products to avoid damaging your roof. Our technique can remove everything from insects to lichens, which can damage and discolor your shingles. Unlike other roof cleaning services, we bring the utmost care and expertise to every project. That means you'll get the best results for your roof in the long term without damaging your shingles.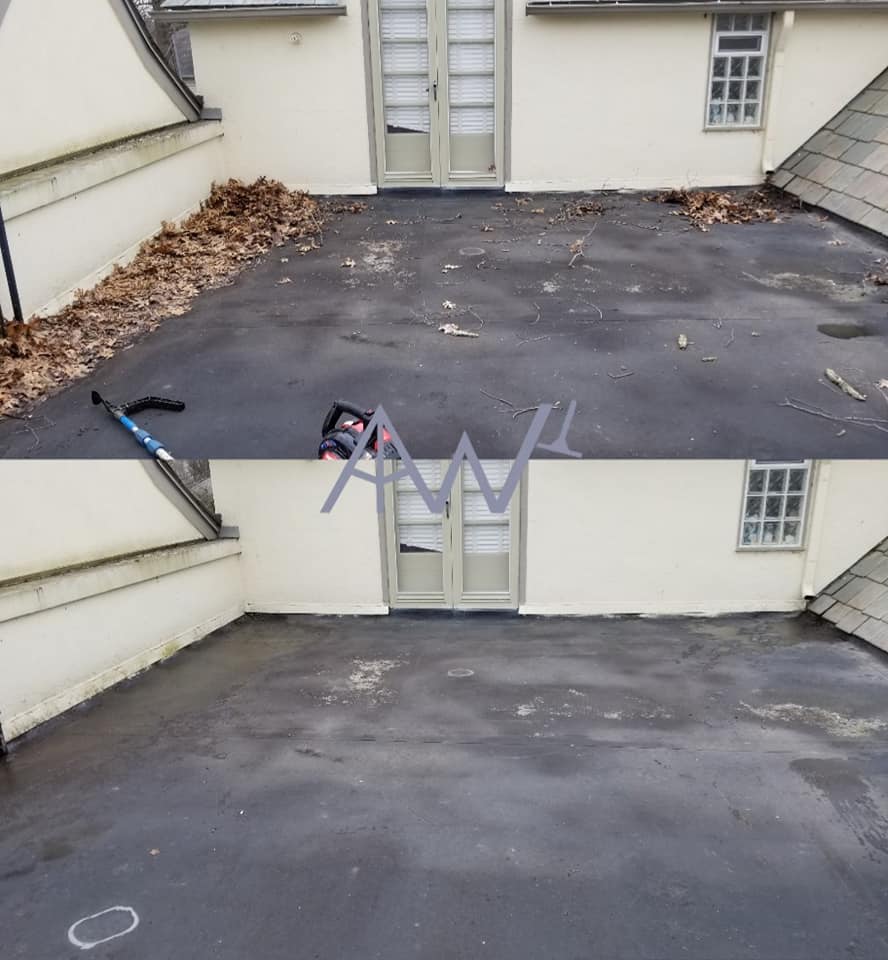 Professional Roof Cleaning Upper Arlington OH Residents Trust
Our top-notch roof cleaning contractors pride themselves on being experts in at-home maintenance. With over eight years of experience, our team of licensed professionals knows what they're talking about and can help you. Whether you're a roof cleaning newbie or a seasoned home improvement pro, we're here to answer any questions or doubts you may have about roof cleaning. Beyond providing best-in-class roof cleaning services, we pride ourselves on developing long-term relationships with our clients. We want to ensure your home is taken care of beyond just an initial roof cleaning, with frequent follow-up washes to better support your home's hygiene.
The sprawling town of Upper Arlington, OH doesn't stop short of offering a fantastic quality of life for its residents. With over 33 parks over 170 acres, the town provides ample opportunity to explore the outdoors. Some highlights include the Scioto Golf Course and Langston Park. Upper Arlington also houses the Municipal Services Center, seasonal art installations, and community celebrations in the park. With a vibrant energy and laidback atmosphere, Upper Arlington is a fun-filled destination for tourists and residents alike.
Get a Quote for Roof Washing in Upper Arlington, OH Today!
If you live in Upper Arlington and are looking for a roof washing in Upper Arlington, OH, or roof washing near me, get in touch with our team at All-Around Washing LLC. We'll walk you through our roof cleaning process and provide you with a free estimate so that you can have visibility into your projects. It's time to stop delaying and take action on your roof to leave it healthy and clean for years to come. We look forward to crossing off roof cleaning from your to-do list!
We also offer professional house washing, pressure washing, and more!