Professional. Affordable.
House Washing Worthington OH
Top-Quality House Washing in Worthington
It is not an easy task to take care of your home and property regularly. Other than simple maintenance, more intense cleaning takes a significant amount of time, hard work, and effort. Plus, not a week goes by when you're not confronted with a new cleaning challenge, especially if you have kids.
In this case, you have probably considered hiring a washing company. Are you unsure which washing service to choose and are worried that your home cleaning won't be thorough or completely satisfying? Then you're in luck.
All-around Washing LLC is a professional cleaning service available to residents of Worthington and beyond. We have a superb range of super-friendly services available to suit everyone's needs. Whether you're after blind cleaning services, carpet cleaning, upholstery cleaning, or window cleaning – we've got the answer for you!
Searching for Worthington House Washing Near Me?
At All-Around Washing LLC, we are proud to offer our clients expert services that ensure their homes look clean and beautiful, day in and day out. We believe in giving the most professional services at prices that everyone can afford. That's why, if you reside in Worthington or around the area and are looking for house-washing services, we'll be able to help you.
What can you expect from us at All-Around Washing LLC? We have washing specialists that will ensure your home gets the thorough cleaning it needs (exterior and interior). Furthermore, our team does not just use premium products but also utilizes a wide array of tools and techniques for surface cleaning, carpet freshening up, paint repairs, and more.
In general, finding a professional house cleaning service in Worthington, Ohio, can be daunting. So many companies out there, so little time to try each one. And you want to end up with excellent service – no cleaning disasters.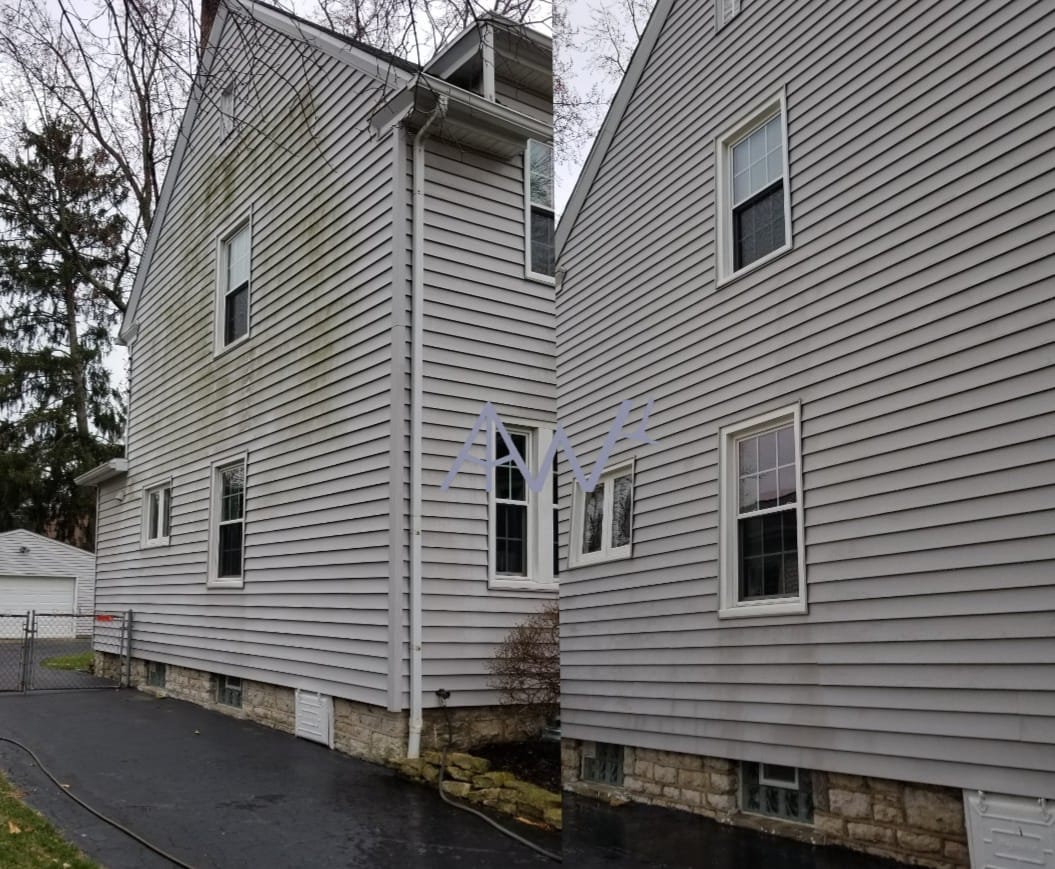 Expert Exterior House Cleaning Worthington OH Residents Trust
All-Around Washing LLC is Worthington, Ohio's most reliable and trusted house washer. Our staff is committed to delivering exceptional results every time. We are thorough, trustworthy, and take pride in our work. Some tasks we've completed for clients include roof washing, power washing, and house washing. Consequently, we have left clients walking through their homes with smiles.
When your home needs a fresher, cleaner look and you want to get it done as fast as possible, call us at All-Around LLC. We come to your home on demand so you can spend less time cleaning. And we make sure your house stays clean for longer between washes.
Another significant benefit of working with us is our years of industry knowledge. It might seem like house washing is a simple task that anyone can handle, but you need the reliable, expert house cleaning services of All-Around Washing LLC in Worthington, Ohio. Our local house cleaners know precisely how to clean and wash your home or garden, so you can rest assured that we are the best Worthington house washing company.
Call Today for House Washing in Worthington, OH!
Worthington, an Ohio suburb, combines the attractions and conveniences of a big city with the charm of small-town living. Its unique blend of commerce, education, tourism, and residential living makes it ideal for everyone.
We know how hard it can be to get your home looking great despite it being so easy to let it get dirty. You deserve a fresh and clean house, which is why we've put together the most reliable house-washing service in Worthington, Ohio, with All-Around Washing LLC. Contact us today to book your appointment. We cannot wait to work with you!
We also offer professional roof cleaning, pressure washing, and more!